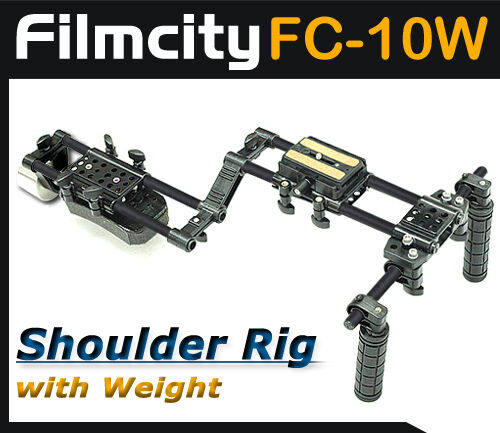 Filmcity Shoulder Rig FC-10
Filmcity FC-10 Review
The Filmcity shoulder rig fc-10 caught my attention amongst the dslr stabilizers, because of the very attractive pricing of the filmcity shoulder rig compared to the pro shoulder rigs and other dslr stabilizers sold by RedRock micro and Lanparte.
For a mere $120 you can get your hands on the Filmcity shoulder rig fc-10, which is a tenth of the price that the big boys charge, which can be north of $800 for a dslr shoudlder rig .
Oke, so we got this cheap filmcity shoulder rig. Is it any good??
Right of the bet you get carbon fibre rods, which means lightweight and high stiffness. Which is ideal for a shoulder rig for dslr (not all versions on ebay have this, so check carefully).
Filmcity Shoulder Rig FC-10
[Filmcity FC-10 drawbacks]
The first drawback is the Z-bracket. This is made of plastic and thus causes the filmcity shoulder rig to lose some stiffness.
Another drawback of the

Filmcity shoulder rig fc-10 i

s the mounting of the handle bars. Even though these feel solid, they lock to the support rod by twisting the handle bars. This type of locking mechanism is not secure and sometimes causes the handle bars to slip a common problem with a filmcity dslr rig. So be careful with them while filming since this will mess up your shot.
This said, you can still get very descent shots with this filmcity dslr rig. When filming under normal conditions and the filmcity fc-10 shoulder rig will outperform any handheld filmmaker.
[Filmcity FC-10 Counter weigth]
When doing this filmcity rig review I used a rig with the Canon 550D also known as the Canon T2i and a 35mm prime L lens from canon the

Canon EF 35mm f/1.4L UM

S

to be exact. From the start this proved to be a perfect rig for dslr.

The counter weight proved to be to light for proper balancing, even with a

dslr stabilizer, which caused me to shift the shoulder pad further behind to have a comfortable look at the lcd screen.

[Filmcity FC-10 Quick Release]

The quick release system of the filmcity rig works great, however as you probably already know by now, when trying to replace the battery the system, it is just a bit to wide to open it up. So you have to remove the baseplate screw and then you can access` the battery. A little handy work with a file can get rid of that little nuisance.




Overall we can conclude this filmcity fc-10 review with the fact that the Filmcity shoulder rig fc10 is a reasonably sturdy shoulder rig for dslr, considering its price and I would highly recommend it to any indie filmmaker looking to cut costs. This will not be a purchase you will come to regret.




[

Filmcity rig review Summary]

Light weight rig for dslr

Carbon fibre rods

Cheap shoulder rig

Handle bar fitting not thight enough

Good price tot quality ratio