Looking at the Camtree Shoulder Rig
A Camtree Shoulder Rig is what you need when you upgrade from DSLR to cinema camera. The Camtree shoulder rig offers a broader base of support and can handle larger loads than the typical DSLR shoulder rigs.


Camtree Shoulder Rig
With the
Camtree shoulder rig
you will notice the higher build quality compared to low end DSLR rigs. I used it with the Panasonic AF-101 and it worked perfectly, especially when you consider that most cinema shoulder rigs will cost about $1000 - $1500 more than this one.
The systems is stiff and if you simply replace the base plate you can still use your DSLR when you need it. The locking mechanism for holding the handle bars in place is also much better than those of low end DSLR rigs.
Overall the Camtree Shoulder Rig is a low end shoulder rig, however this is only due to its price since it will perform perfectly in any indie or even big budget production (I have seen them there as well).
_______________________________________________________________________________
[Filmcity Shoulder mount FC-10W]
(tags: filmcity shoulder rig fc-10w / shoulder mount / filmcity shoulder rig fc-10w / filmcity shoulder rig fc10w / indie film gear / independent filmmaking / independent filmmaker / low budget film production / steady shoulder rig / proaim / cine city / carbon fiber rods / sturdy low budget shoulder rig / canon 550D 600D 650D / Canon 5D 7D / stabilize your shot / cheap shoulder rig / off-axis mount / independent film production)
The FC-10W shoulder mount of Filmcity caught my attention, because of it's very attractive pricing compared to the pro gear sold by RedRock micro and Lanparte.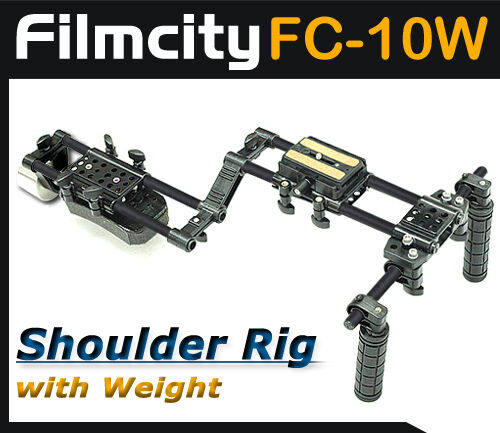 The FC-10W shoulder mount of Filmcity caught my attention, because of it's very attractive pricing compared to the pro gear sold by RedRock micro and Lanparte.
For a mere $120 you can get your hands on a shoulder rig, which is a tenth of the price of the big boys that normally charge north of $800.
Oke, so we got this cheap shoulder rig. Is it any good??
Right of the bet you get carbon fibre rods, which means lightweight and high stiffness. Which is ideal for this type of equipement (not all versions on ebay have this, so check carefully).
[Drawbacks]
The first drawback is the Z-bracket. This is made of plastic and thus causes the rig to loose some stiffness.
The
major drawbac
k is the mounting of the handle bars. Even though these feel solid, they lock to the support rod by twisting the handle bars. This type of locking mechanisme is not secure and sometimes causes the handle bars to slip. So be carefull with them while filming since this will mess up your shot.
This said, you can still get very descent shots when filming normally and the rig will outperform any handheld film maker.
[Counter weigth]
I tested this rig with the Canon 550D also known as the Canon T2i and a 35mm prime L lens from canon the
Canon EF 35mm f/1.4L UMS

to be exact. The counter wheight proved to be to light for proper balancing since my sive 6 foot (170 lbs) caused me to shift the shoulder pad further behind to have a comfortable lood at the lcd screen.


[Quick Release]

The quick release system works great, however as you probably already know by now, when trying to replace the battery the system is just a bit to wide to open it up. So you have remove the screw and then you can acces the battery. A little handy work with a file can get rid of that little nusance.




Overall this is a very sturdy system for its price and I would highly recommend it to any indie filmmaker looking to cut costs. This will not be a purchase you will come to regret.



(tags: filmcity shoulder rig fc-10w / shoulder mount / filmcity shoulder rig fc-10w / filmcity shoulder rig fc10w / indie film gear / independent filmmaking / independent filmmaker / low budget film production / steady shoulder rig / proaim / cine city / carbon fiber rods / sturdy low budget shoulder rig / canon 550D 600D 650D / Canon 5D 7D / stabilize your shot / cheap shoulder rig / off-axis mount / independent film production)